西部(重庆)科学城未来校园设计国际竞赛·第一季,正式启动!本次竞赛同时发布西部(重庆)科学城2022年首批4所公立学校项目,面向全球设计机构公开遴选优秀方案及团队。
International Competition for Future School Design in Western China (Chongqing) Science City – Season 1 is now open for application! The competition releases 4 public school projects of Western China (Chongqing) Science City in 2022, and is open to global design teams.
习近平总书记在中央财经委员会第六次会议上专题部署成渝地区双城经济圈建设,强调要"支持两地以'一城多园'模式合作共建西部科学城,使成渝地区成为具有全国影响力的科技创新中心",建设西部(重庆)科学城是贯彻习近平总书记重要指示精神、把总书记殷殷嘱托全面落实在重庆大地上的具体行动。
At the sixth meeting of the CPC Central Financial and Economic Affairs Commission, General Secretary Xi Jinping made special arrangements for the development of Chengdu-Chongqing economic circle, stressing that "support the cooperation between the two places to build Western China Science City in the mode of 'one city, multiple campuses', and make Chengdu-Chongqing region a science and technology innovation center with national influence". The construction of Western China (Chongqing) Science City is a concrete action to carry out such important instructions.
西部(重庆)科学城是重庆科技创新的未来,是重庆高质量发展的未来,重庆正举全市之力、集全市之智建设西部(重庆)科学城。西部(重庆)科学城以"科学之城、创新高地"为总体定位,紧扣"五个科学""五个科技",聚焦科学主题"铸魂",面向未来发展"筑城",建设"科学家的家、创业者的城"。西部(重庆)科学城着力打造以"西部教育高地引领区、教育创新发展先行区、全国智慧教育示范区"为核心的"西部教育特区",为加快完善城市功能,拟启动一批中小学、幼儿园建设。
The Western China (Chongqing) Science City is the future of scientific and technological innovation and high-quality development of Chongqing. Chongqing is holding the strength and wisdom of the whole city in such effort. With the overall orientation of "Science City and Innovation Highland", The Western China (Chongqing) Science City closely follows principles of "five sciences" and "five technologies", focuses on the theme of science, develops city for the future, and builds itself into a "city for scientists and entrepreneurs". The Western China (Chongqing) Science City strives to build a "Western China Education Special Zone" with "Education Leading Area, Education Innovation Pioneering Area, and National Smart Education Demonstration Zone" as the core. In order to accelerate the improvement of city functions, construction of a number of primary and secondary schools and kindergartens are to be launched.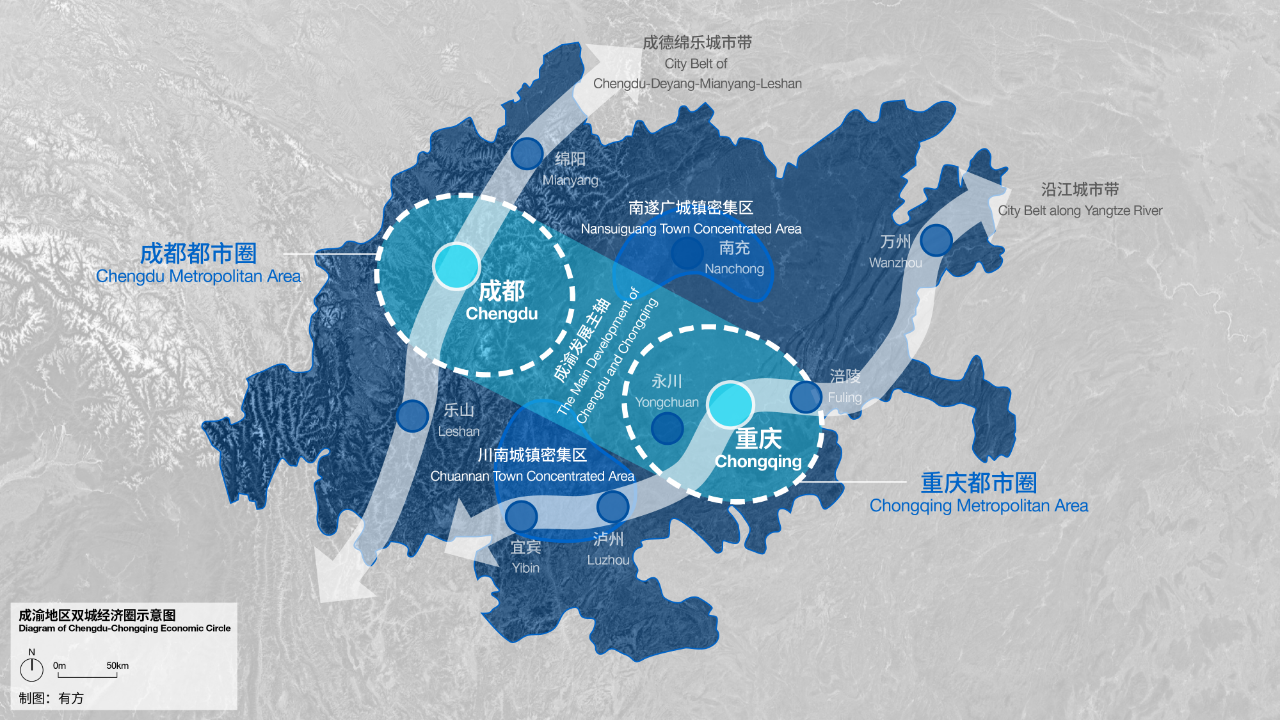 成渝地区双城经济圈示意图 ©有方
Diagram of Chengdu-Chongqing Economic Circle ©POSITION
在此背景下,由重庆高新技术产业开发区管理委员会公共服务局主办,重庆高新开发建设投资集团有限公司承办,深圳市有方空间文化发展有限公司组织策划西部(重庆)科学城未来校园设计国际竞赛。
This competition is hosted by Chongqing High-tech Industry Development Zone Administration Committee Public Service Bureau, organized by Chongqing High-tech Development and Construction Investment Group Co., Ltd., and co-organized by Shenzhen Position Spatial Culture Development Co., Ltd..
本次竞赛旨在探讨面向未来教育理念的未来校园空间形态,彰显重庆"山水之城、美丽之地"的独特魅力,践行"科创高新·智慧教育"理念,打造独具特色的未来校园。
This competition is to explore future school space design with future-oriented education philosophy. The design shall reflect the unique characteristics of Chongqing as "a city of mountains and rivers, a place of beautiful landscape", and realize the concept of "High-tech Innovation · Smart Education", to achieve distinctive future schools.